Product Overview
Netlog is an enterprise safety net software application for Windows for tracking safety nets and other equipment; featuring office and warehouse modules, equipment records, an intelligent booking system, full usage traceability, damage and repair histories, an inspection management interface, barcode support and numerous reports to allow you to efficiently manage your equipment.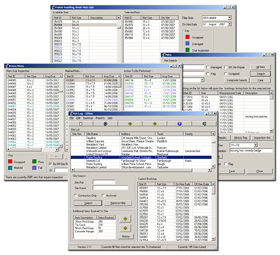 NetLog is Cost Effective. In fact, it pays for itself very quickly by removing the tedium of manually keeping records and allowing you to see the information YOU need, when you need it, to run your business effectively. There are no hidden charges just one simple software package all boxed up, ready to go and with an asterisk-free price tag and 1 months support thrown in. It'll run on your normal PC with your standard Microsoft Windows operating system.
NetLog is Very Easy to Use. Do you really have the time (or patience) to wade through a telephone directory sized user manual? Of course you don't and that's why we designed the NetLog safety net software to be intuitive. According to our clients, it just 'makes sense'. If you can use a PC, you can easily use NetLog. And if you do run into any issues, we are just a phone call away with our dedicated support line to provide you with the answer to any questions you may have.
NetLog IS The Right Choice. When you buy, you need to be able to buy with confidence. First of all, this is not a generic software product; it was specifically designed for rental companies like yours. Secondly, we guarantee you won't find a better product of this kind, for this price and with this level of functionality. But don't just take our word for it, why not Download NetLog Today and see for yourself.
Compelling Return on Investment
NetLog can pay for itself SEVEN times over within the first year. Can you afford not to try it out?
This is based on real life experiences of existing users. Here's the detail :-
A net rental company has a stock of 2500 nets of which 2125 (85%) are rented out in any given year.
Between 5 and 10% of nets rented out are not returned from sites each year.
That equates to between 106 and 212 nets lost per year.
The average value of individual nets is about £100.
Value of lost nets is between £10,600 and £21,200 per year
NetLog automatically identifies 'non-returns' enabling you to bill for nets that would otherwise be missed.
NetLog Safety Net Software Highlights
Designed specifically for the SafetyNet Industry
Fully supports industry specific regulations and inspection processes
Supports rental of ancillary items
Large selection of reports
Multiple concurrent users with central data store
Easy to use interface
Tried and tested by many UK based rental companies